Sunset Twilight Markets are back at the picturesque Frankston Waterfront for a limited run.
The Waterfront will come alive with curated stallholders, street food, entertainment, bars and more. Indulge in a variety of cuisines, sample some local boutique beers, spirits and wines, and purchase something special. Friday Nights at the Waterfront will bring a holiday vibe to Frankston over the spring/summer period.
Supported by Frankston City Council's Event Attraction Program, Sunset Twilights is a great place for visitors and residents to indulge in all that is on offer.
With free entry, it is a great way for everyone to end the week.
Friday 20th October 5pm – 9pm
Friday 17th November 5pm – 9pm
Friday 15th December 5pm – 9pm
Friday 19th January 5pm – 9pm
Stallholder's Information
Site fees start from $80
All sites are 3m x 3m (with double sites available on request)
All stallholders must have their own commercial grade marquee with sufficient weights as per our stallholders regulations. (No pegging allowed on the site)
All stallholders must have their own public liability insurance
No parking available on the site during market times
Interested stallholders are required to fill out the application form below, prior to proceeding to payment.
Site Map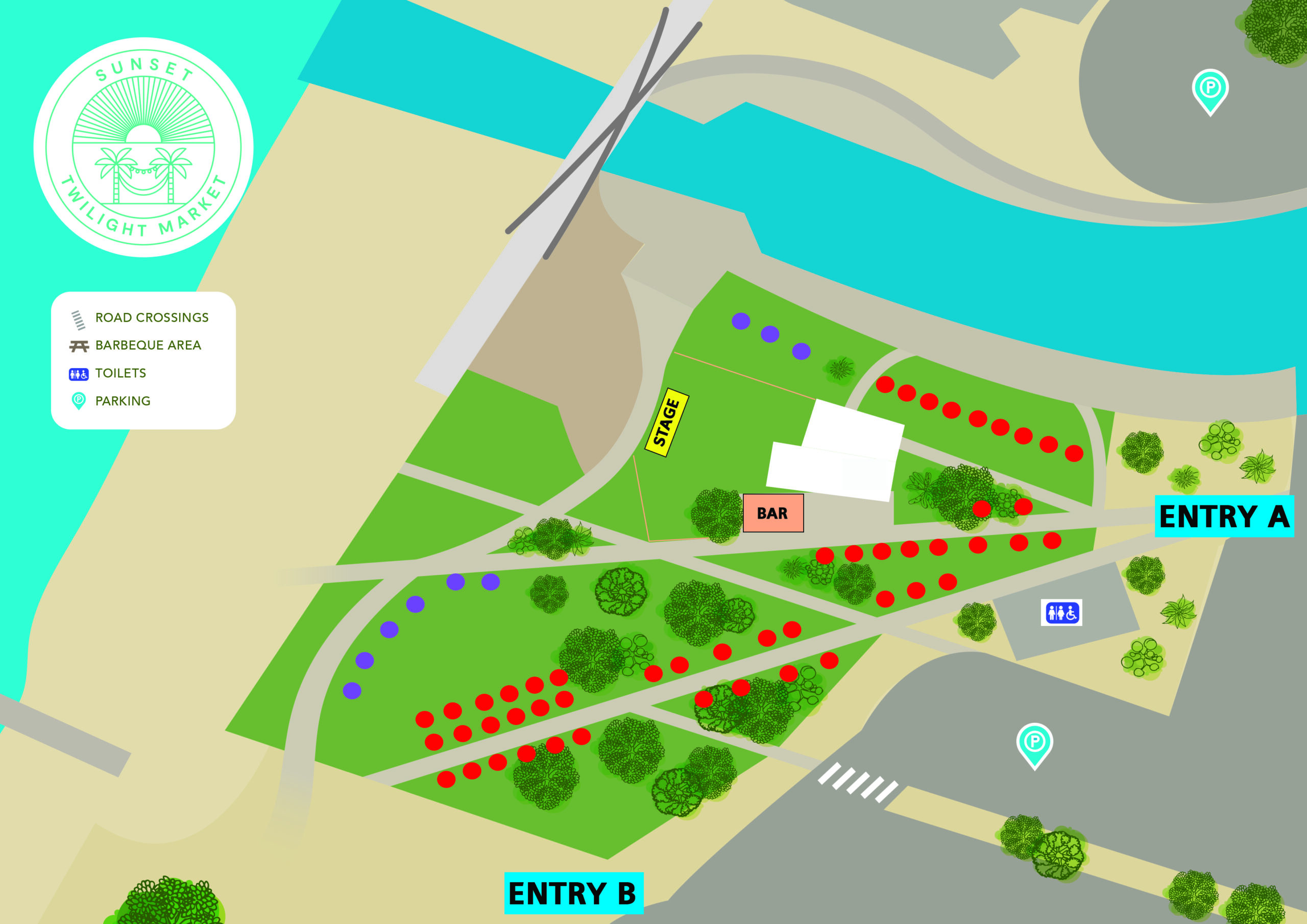 Bump in / Bump out
2.00pm – Stallholders can commence bump in
4.30pm – No further vehicles allowed on site
4.45pm – All stalls must be set up and ready to operate
5.00pm – Market commences
9.00pm – Market concludes stallholders can commence pack up, no vehicles allowed back on site until instructed by Event Manager
11.00pm – All stallholders to be offsite
Site Access
Entrance A
Via the boat ramp car park off Nepean Highway (Highlighted in red below)
Please note if you are driving from the North, you will need to do a u-turn at the set of traffic lights at Pier Promenade and then proceed to boat ramp entry.
Entrance B
Via Pier Promonade roundabout (Highlight in blue below)
After all equipment has been unloaded, you are required to leave the site and park outside the event space.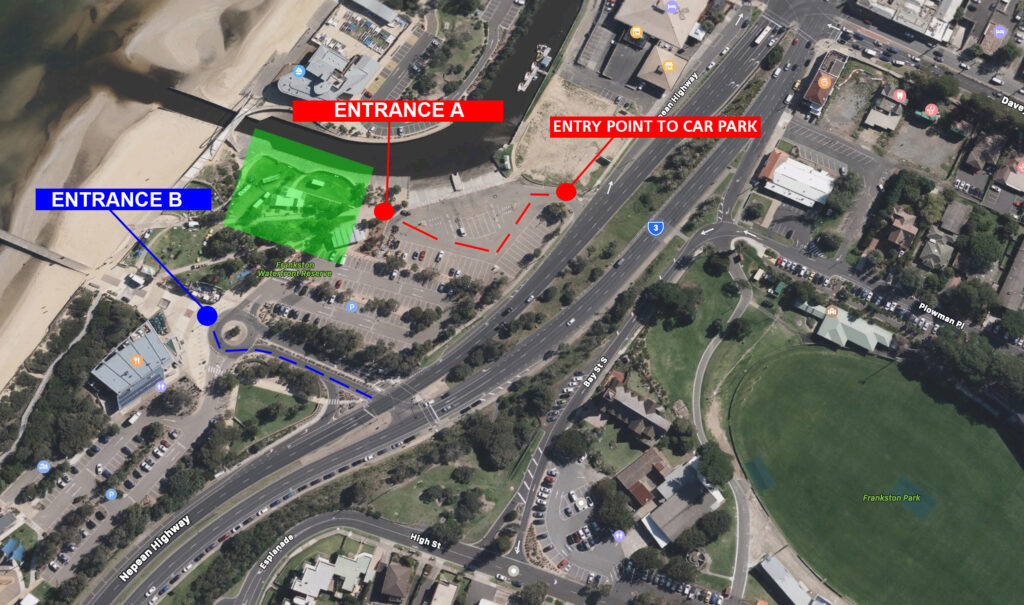 Cars on Site / Speed Limit
The only vehicles permitted onto the event site are those, which have a specific reason and are on legitimate business (e.g. carrying equipment and materials). Vehicles must adhere to strict access points for entering and exiting the event space.
The speed limit within the event site is walking pace. Drivers are to exercise extreme care to ensure the safety of pedestrians and prevent vehicle accidents on site. Hazard lights are to be on at all times when the vehicle is moving around the site.
Stallholders may not move their vehicles on site until after the finish of the event and the ALL CLEAR has been given by the Event Organiser.
Parking
As previously stated, there is no onsite parking for this market. Once you have unloaded your equipment, you are required to leave the site and find a car park.
Suggested parking; Street parking on Nepean Highway, Davey Street, Young Street, Frankston Football Oval or Beauty Park.
Please ensure you check all signage and applicable parking restrictions.
Payment Link
Payments for each market are due one month prior to the market date.
We have a number of stallholders on a waitlist and if payment is not received prior to the due date, your spot may not be available
Please note: If you are a food / beverage vendor, please ensure you have registered your Statement of Trade (SOT) with Frankston City Council.
Site Induction
All stallholders must complete the site induction, prior to entering the market site.
If you are attending more than one date, you only need to complete the induction the first time
Social Media Graphics